When applications for Quest 2015 began to arrive early, it was evident that there was much need for God's work in students' lives. Applications kept pouring in and exceeded expected attendance. It became necessary to add additional leadership a week before the start date. God knew the situation and prepared an ALERT man who recently finished Basic Training and lived nearby to answer the call.
Quest is a four-week program for young men ages 14-17. The goal is to give young men a vision for manhood and an awareness of the myth of adolescence, encouraging them to choose Christlike manliness instead. Through one-on-one discipleship, group classes, and personal daily devotions, Quest helps young men overcome the struggles that hold them back from maturity and teaches them the skills and knowledge they need to succeed in life. Another goal of Quest is to be a useful tool for parents seeking to encourage their sons to strive after manly maturity.
Saturday, June 27, arrived and so did the students. The first night students took turns sharing a prayer request and one way they wanted to benefit from attending Quest. As they each shared within their teams, the foundation for openness and trust was laid.
On Monday night, one of the officers brought a message about being a Priest of the home. This is part of Quest's program, instructing the students about God's expectation for them to be a Priest of the home, a Husband, a Father, Provider, Protector, and to demonstrate Servant Leadership. Midway through the session he asked if there was anyone that was not sure of their salvation but would like to be, since that is a prerequisite for the role of Priest. Eighteen young men raised their hands stating that they wanted a relationship with God through the sacrifice Jesus made.
Day after day for four weeks, the students began embracing the responsibility of manhood. Studies and activities included: First Aid/CPR, canoeing/canoe rescue, basic home and auto maintenance, survival training, public speaking, job interview skills, ropes and knots, metalworking, rappelling, and more. Also, they learned through "A.M. Watch" (individual time with the Lord), PT (physical training), and the examples of dedicated leaders. All studies and activities related to the young men's manhood and built on the foundational six Pillars (Priest of the Home, Husband, Father, Provider, Protector, and Servant Leader).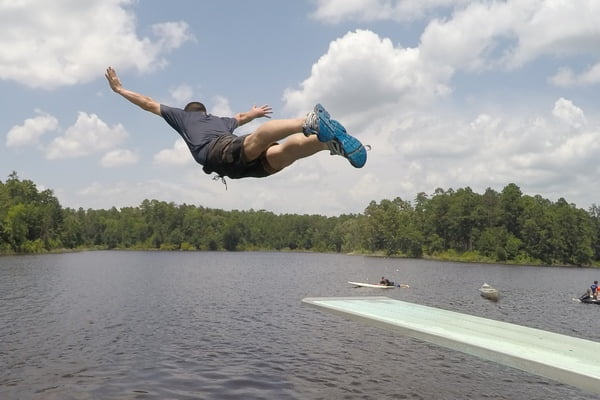 Of course, when young men ages 14 and older get together, it is no surprise when problems occur. God was gracious! In three separate instances, the problems provided opportunities for the leadership to introduce additional students to the saving knowledge of Jesus Christ. Quest 2015 concluded with a formal reception, ceremony, and banquet dinner where the accomplishments of the seventy-three young men were celebrated. Truly, God worked in their lives in powerful ways!