The Verity Senior class recently went on a missions trip to Haiti, leaving Indianapolis on April 15th and returning on the 26th. We flew into Port-au-Prince, the capital of the country, where we spent one night at the New Life Children's Home. New Life is a rescue home, which means they take in children who are severely malnourished or handicapped (or both) and nurse them back to health. While in the Port-au-Prince area, we visited Cite Soleil ("City of the Sun"), one of the poorest areas in Haiti. The poverty and general conditions there are crushing. Women feed their children with dirt cookies: water, plus dirt, plus a little salt and butter. Trash is everywhere. The houses are shacks. The need is so great. As we traveled three hours over the mountains to the city of Jacmel in southern Haiti, where we spent the next week serving in villages around the city, we were continually confronted with scenes of poverty that we never could have imagined.
The missionary couple we were serving with, Malcolm and Joy Henderson, moved to Haiti about five years ago and started their own organization, Charis. (Charis [pronounced KARR-iss] is the Greek word for "grace.") The Hendersons' primary activity is sharing the Gospel with voodoo priests, as well as discipling new converts. Voodoo and other demonic influences have a stranglehold on the people of Haiti, and it's only the Gospel of Christ and the power of the Holy Spirit that are making and will make a difference in these precious lives.
We had the opportunity to go with the Hendersons as they taught Bible studies in various former and current voodoo camps. Sometimes we'd play with the kids and share a Bible story with them while Malcolm shared the Gospel with the adults. We also helped Joy take the kids from the various voodoo camps back to the Hendersons' house in our "tap-taps" (a modified pickup truck) to be fitted for clothes that had been donated by a church in the States.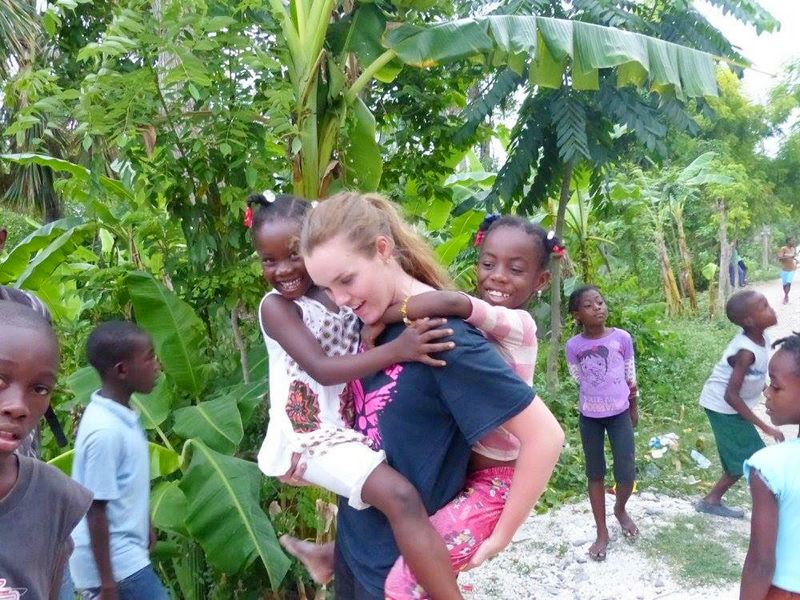 Dr. Henderson is a physician, and in addition to our helping with Bible studies, hikes, and holding precious children, we were also able to observe him and even help a little as he performed surgeries in the hallway of the hotel where we stayed. Several days we visited schools that Charis supports. One school in Macary, only about eight miles from our hotel, took an hour to drive to because the roads were so bad. While at Macary, we handed out gifts and played with the kids, teaching them games such as Ultimate Frisbee™.
Another day, we drove for about an hour and then hiked another hour up a mountain to a tiny school nestled on the side of the mountain, bringing school supplies and gifts for the students. While we were there, several in our group and one of our translators, Peterson, shared and acted out the story of David and Goliath—a huge hit with young and old alike!
At one former voodoo camp, we sang "Amazing Grace" to the grandmother of the camp. She is blind, in constant pain, and has hardly any teeth. As I was sitting on her bed singing, I realized that halfway through the song, she had joined us—singing in Creole. At the same camp, we had an impromptu prayer meeting and prayed for several of the single mothers and other young women of the camp, lifting up their struggles, fears, and hurts to our Almighty God.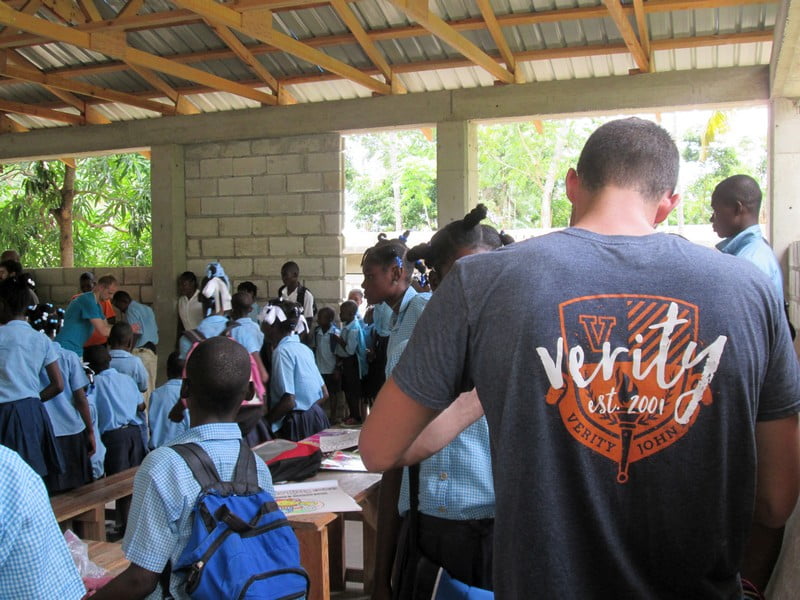 God reminded us while in Haiti that He is our strength. He is big enough and strong enough to meet the enormous needs there, while we can barely scratch the surface. Please pray for the people of Haiti and for the Hendersons as they minister there. Also, please pray for our team as we continue to think through what God has shown each of us.
For more stories, visit the Verity blog at veritycollegeeducation.org/blog. We also encourage you to visit the Charis website (charis4haiti.com) for more information on what God is doing in Haiti and how you can help by praying for specific families in this spiritually and economically impoverished nation.