Exploring Truths of God's Abundant Life
In our world today, the topics of faith, hope, and love are very familiar, with many proclaiming their value and importance. However, when we are encouraged to apply these words, we must be careful to evaluate the underlying philosophy they are being built upon. All too often, faith, hope and love are defined and understood with a worldly philosophy as their basis, resulting in ideals that are at odds with God and His design.
In The Life Series, we invite you to step back and look at each topic from a fresh and Biblical perspective. With God's ultimate purpose for mankind in view, The Life Series explores faith, hope, and love from God's vantage point in order to discover the ultimate importance and expose the incredible power of each one!
Study Details
Structure:
Five 45-minute episodes with workbook
Designed for:
Small groups
Families & Home Bible studies
Sunday School class for young people or adults
God has an eternal purpose, and faith is the means by which we participate in His purpose on earth.
The Importance of Faith
The Essence of Faith
The Object of Faith
The Object of Faith
The Source of Faith
Living by Faith
The Basis of Hope
The Vision of Hope
The Effect of Hope
The Transformation of Love
The Demonstration of Love
The Interaction of Love
The Motivation of Love
The Test of Love
Walking in Love
The Life Series explores faith, hope, and love from God's vantage point — not ours.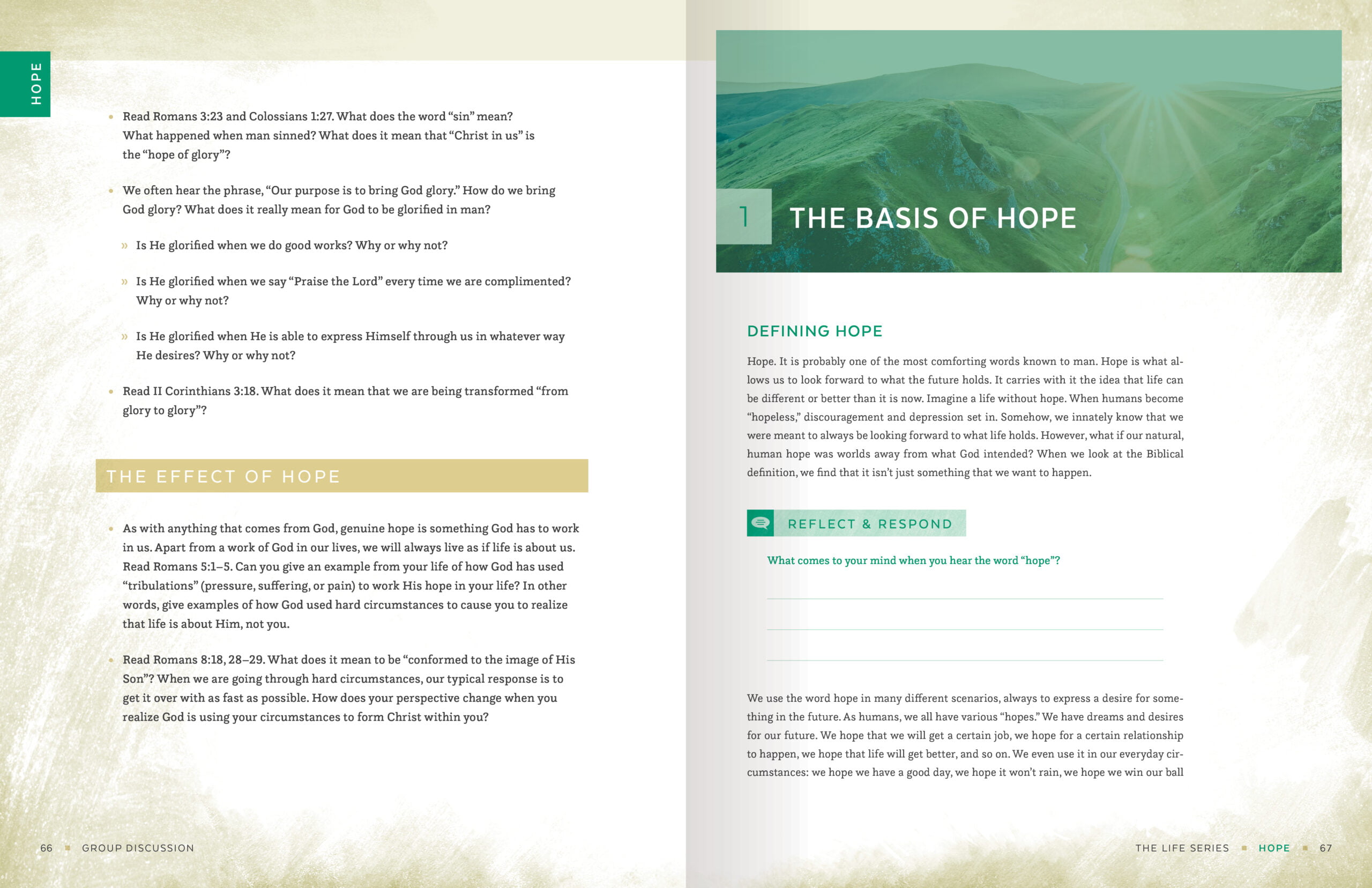 Intended for small group study, The Life Series was designed to be viewed in a group setting and is accompanied with workbook study questions in order to prompt group discussion. To help individuals personally digest the lessons, follow-up reading material is also included in the workbook.
Testimonies from The Life Series
"I had never heard hope defined like this before . . . being, not just wishful thinking, but a strong, confident expectation of what God's going to do. When I heard that, it blew my mind and opened the door to things God wants to do in my life!"
"The truths included in The Life Series . . . weren't normal, everyday truths. They were simple, but they were profound. I am a different person just from going through this series."
"The Life Series opened my eyes to the Lord in a fresh way! I didn't realize how low and self-centered my concepts of faith, hope, and love were until I realized they were primarily for God so that He can accomplish His purpose on earth."
The Life Series is a five-part video presentation that delves into the riches of I Corinthians 13:13: "And now abideth faith, hope, love; these three . . . . "